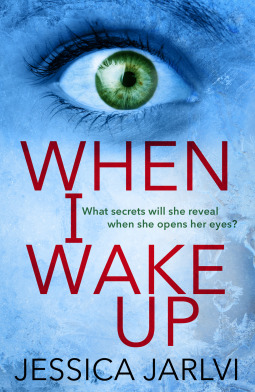 When I Wake Up

by Jessica Jarlvi
Published by Aria on June 1st 2017
Genres: Thriller, Mystery, Suspense
Pages: 478
Format: eBook
Source: NetGalley & Aria





A breathtaking, heart-pounding, dark debut, sure to delight fans of The Girl on the Train and Before I Go To Sleep.
'Why won't Mummy wake up?'
When Anna, a much-loved teacher and mother of two, is left savagely beaten and in a coma, a police investigation is launched. News of the attack sends shock waves through her family and their small Swedish community. Anna seems to have had no enemies, so who wanted her dead?
As loved-ones wait anxiously by her bedside, her husband Erik is determined to get to the bottom of the attack, and soon begins uncovering his wife's secret life, and a small town riven with desire, betrayal and jealousy.
As the list of suspects grows longer, it soon becomes clear that only one person can reveal the truth, and she's lying silent in a hospital bed...
**Special thanks to NetGalley & Aria for supplying my copy of this book in exchange for an honest and unbiased review. This does not affect my opinion of the book or the content of my review.**

When I Wake Up opens up with a breathtaking scene. Anna is brutally and savagely attacked at what seems to be a parking lot. Then she loses conscious.
"Then everything turns eerily quiet"
With such an opening, I was fully alert. Anna is a well-loved school teacher. She goes into coma after this brutal attack. Her husband Erik is devastated and her little 5 years old twins can't make out what's wrong with their mum. No one can figure out what happened to Anna and who could ever attack her with such hate. After all, everyone loves Anna!
But there's a lot beneath the still waters. As we read forward, we find out that there's a lot beneath the calm surface. The happy marriage is more like a boring dead marriage. The couple's life had turned into a monotonous everyday routine where each of them had lost their true selves as well as their youthful spirits. Still they are so united by their old love and above all the lovely twins they have.
Erik is devastated. It seems to him the police are not involving him as much as he wishes and he wants to know what's going on. In return, he holds to Anna's laptop and doesn't turn it to the police. It's his window to Anna's life in the months before the attack. He searches her emails and documents trying to know what might have been going on. But what would he find?
Anna's life had been focused around her students and her twins. Everyone at school loves Anna especially her students. But maybe too much love can hurt. But that's not all.  Anna seeks to find her true identity again. And this might have taken her to new boundaries she never thought she could reach.
As more characters are introduced into the plot, secrets start to unravel. You will keep guessing and thinking. But no matter how good you guess, the twists and turns will keep swinging you left and right till the last pages.
When I Wake Up was such an interesting and enjoyable read. I couldn't put it down. I thought many times that it was clear to me what was going on. However, I would discover soon that it wasn't what I had thought. I kept guessing and expecting. However, the major twist was so good and took me by surprise.
Jessica Jarlvi did a great job with her debut novel, When I Wake Up. Her writing style was so interesting. She moved her plot on so swiftly that there was no moment when I felt bored. The pages flew by in this fast paced suspenseful thriller and I enjoyed every bit of it.
With so many suspense thrillers hitting the shelves, it's becoming a tough job to write a suspense thriller that can stand out. I think Jessica Jarlvi is one of those authors who can just do that. I love her style and the way she builds her plot. I expect to read more great books by this amazing author.