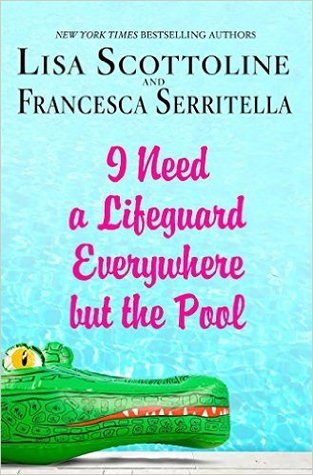 I Need a Lifeguard Everywhere But the Pool

by Lisa Scottoline, Francesca Serritella
Published by St. Martin's Press on July 11th 2017
Genres: Nonfiction, Humor
Pages: 320
Format: eBook
Source: NetGalley & St. Martin's Press





The bestselling and "perennially hilarious" mother-daughter team is back with a new collection of stories from their real lives, guaranteed to make you laugh out loud. Join Lisa and Francesca as they regret drunk-shopping online, try smell-dating, and explore the freedom of a hiatus from men - a Guyatus. They offer a fresh and funny take on the triumphs and facepalm moments of modern life, showing that when it comes to navigating the crazy world we live in, you're always your own best lifeguard
**Special thanks to NetGalley & St. Martin's Press for supplying my copy of this book in exchange for an honest and unbiased review. This does not affect my opinion of the book or the content of my review.**

Let's just agree on something. We love Lisa Scottoline! Yesss. I Need a Lifeguard Everywhere but the Pool is such a hilarious summer read. I couldn't get enough of it.
Lisa and her lovely daughter Francesca share with us some great essays. It's their thoughts on so many issues. It can be everyday life issues, political issues or just anything. It's like small friendly talk. The essays are separate and each one takes you into a different topic.
I can't say whom I love more. Lisa and Francesca are both amazing. Sometimes I caught myself laughing out loud, sometimes smiling and sometimes just thinking deeply. There is something in each and every essay that will catch your interest.
I think the secret ingredient is the simplicity, and of course the lovely two authors. They are putting part of their spirits into the words. Reading this book felt like a friendly chatter between close friends on a lovely summer afternoon. Lisa is not just an author. She's someone you want to be friend with. She's a lovely hilarious person. You know that type of friend that you always enjoy talking to. And Francesca is the new age empowered young woman who sees things positively and wants to take things into her own hands. She won't be driven along. She's a strong amazing woman.
Have you ever had the question "Am I the only one?" Well I had it about so many things. This book answered this question. Thanks. I am not alone. There are other people who have those tiny thoughts about things. Funny right?! There are things – very trivial things maybe – that I thought I was the only one doing or considering or whatever. I was amazed to see some of those in the book.
Finally, I Need a Lifeguard Everywhere But the Pool is an amazing summer read. Don't miss it. It will lift your mood and empower you. I am amazed. Lisa Scottoline seems to have two sides. The thriller author and the funny dear relative. I love both!