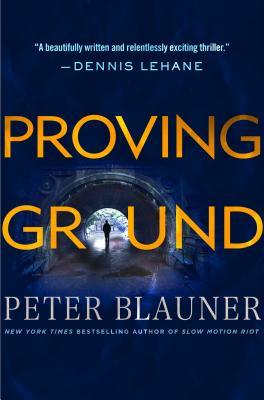 Proving Ground (Lourdes Robles, #1)

by Peter Blauner
Series: Lourdes Robles #1
Published by Minotaur Books on May 2nd 2017
Genres: Thriller, Legal Thriller, Crime Thriller, Suspense
Pages: 357
Format: eBook
Source: NetGalley & St. Martin's Press





Nathaniel Dresden never really got along with his father, an infamous civil rights lawyer who defended criminals and spearheaded protest movements. As an act of rebellion, Natty joined the U.S. Army and served in Iraq, coming back with a chest full of commendations and a head full of disturbing memories.
But when his father is found murdered near the peaceful confines of Brooklyn's Prospect Park, Natty is forced to deal with the troubled legacy of their unresolved relationship. He also has to fend off the growing suspicions of NYPD Detective Lourdes Robles, a brash Latina cop with something to prove, who thinks Natty might bear some responsibility for his father's death. Though truth be told, the list of people--cops and criminals--who wanted David Dresden out of the way is long. The search for answers leads Natty and Lourdes into an urban labyrinth where they must confront each other--and the brutal truths that could destroy them both.
Proving Ground, New York Times bestseller and Edgar Award winner Peter Blauner's first novel in more than a decade, is a sweeping crime novel, an intricate story about the quest for redemption, and a vibrant portrait of contemporary New York City, all told in Blauner's singular voice.
**Special thanks to NetGalley & St. Martin's Press for supplying my copy of this book in exchange for an honest and unbiased review. This does not affect my opinion of the book or the content of my review.**

Proving Ground is the first installment in the new and very compelling series by Peter Blauner. I have to admit that it was quite a different and compelling read.
Nathaniel Dresden, Natty, had served in the US army in Iraq. Now back from Iraq, he is still fighting his daemons. He had accidentally shot a 7 year old kid back there in Iraq and this dreadful event is still haunting him. He can't get over what he did and saw in Iraq and it seems impossible for him to forgive himself and move on with his life. He had joined the army as an act of rebellion against his father, David Dresden. David had dedicated his life as a defense attorney to fight for civil rights.
Robles is a police officer working hard to prove herself. Being both Hispanic and a woman, she feels she has to do extra effort to prove her ground. She's a strong woman yet she has to fight her way through her career.
But when David Dresden is murdered, Natty's world is shattered. He comes home to stay with his mother but his search for the truth takes him into dark passages.
Meanwhile, Robles is working with Sullivan to solve David's case. They follow every lead and they are confronted with many unexpected hurdles along the way. The more they dig into this case the darker and more entangled it seems.
The truth has multiple faces. There seems to be no straight answer. Moreover, there are no saints and no daemons. The plot is very compelling and gives the reader a lot to think about.
Peter Blauner does a great job setting the ground for this very compelling series. The characters are so well crafted. He introduces us to two brilliant characters, Natty and Robles. They are so real. They seem to breathe on the pages. You can sense their vulnerabilities, weaknesses, insecurities and also their pride and power.  They have all the contradictions of the human soul.
The plot is amazingly built. It's very complicated and real. Peter Blauner throws so many characters into this blend and lets the interaction takes us on a very compelling and thrilling path. What I liked most was the real life edge to it. Life is moving on. There's no time for the characters to sit back and dwell on their losses. They are forced to move on even if they are suffering under the weight of their own baggage. Also there are no blinding signs saying "Here's the good guy" or "This is the bad guy". As I said, no saints and no daemons. They are humans. They all have their baggage and even the darkest of them has his or her bright sides.
Proving Ground is the grand opening to a very promising series. The pace starts slow at the first half of the book but everything goes so fast in the second half. I think that was for the sake of setting the ground for the series. In all cases, it's worth the wait. You should be patient enough with the first half because it's really worth it. I also loved the ending. It gives so many options and alternatives for future installments.
Proving Ground is one of the best novels I read this year. I will be impatiently waiting for the next installment.